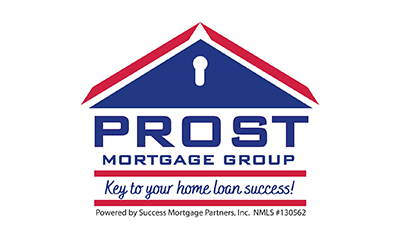 SIMPLIFY MORTGAGE PLANNING WITH PROST MORTGAGE GROUP
Choosing the right mortgage option when you purchase a home can have a huge impact on your financial life over the next 15-30 years. That's why it's important to discuss your options with a loan officer who can carefully evaluate your options to make the right suggestions for you.
Here at Prost Mortgage Group, we do just that. When you contact our team, we'll get to know you and your housing goals to better inform you on the mortgage options that are available for you. Contact our team today to begin your mortgage planning process!
LOAN PROGRAMS:
VA Financing Up To 100% Financing
Rural Housing Loans Up To 100% Financing
FHA Financing Up To 96.5% For A Purchase And 97.75% For A Refinance
Conventional Financing Up To 97% For A Purchase
Cash Out Refinances Up To 80% Loan To Value
FHA 203k Rehab
FHA $100 Down HUD Owned Home Purchases
Reverse Mortgages
Down Payment Assistance Available
QUALIFYING PROPERTIES:
We provide mortgage loans for all types of properties:
Owner Occupied –

 

Primary Residence For The Borrower
Investment Properties –

 

Properties Where Borrower Does Not Use As A Primary Residence Or Vacation Home
Vacation Homes –

 

Properties Where A Borrower Uses It As A 2nd Home/ Weekend Home And Not A Primary Residence
Multi-Family Home Loan Options –

 

We Offer Financing For 2-4 Unit Properties – Where A Primary Residence Or Investment Property
Log Homes –

 

We Offer Financing For Log Homes With At Least Two Recent Log Home Comparable Sales
Manufactured Homes –

 

We Offer Financing On Double Wide Manufactured Homes. True Modular Homes Are Treated As A Standard Single Family Property.
Home In Need Of Rehab –

 

Through The FHA 203k Home Rehab Purchase And Refinance Program, We Offer Financing For Repairs To Rehab The Property. We Offer This Program As A Streamline Or Full 203k Program.