In today's market, it is necessary for both buyers and sellers to be a bit savvier and to think outside of the box. The 2/1 BuyDown financing option is just that. As an expert in Northern Kentucky, and Greater Cincinnati's home loan market, we would like to take a few moments to explain how this works. We are certain this unique program will pique your interest. We are just a call away to answer all your questions about this and other home buying options.
Come, take a look.

What is a 2/1 BuyDown

A type of financing that lowers the borrower's interest rate on a mortgage for the first two years before it rises to the current locked rate.
The start rate is 2% lower than the locked rate for the first 12 months. Then the rate will increase by 1% higher in the second 12 months.
Sellers, including home builders, may offer a 2-1 buydown to make a property more attractive to buyers.
To make up for the interest that the lender will not receive in those early years, Sellers and Builders can pre-pay this fee up front at closing.
The temporary BuyDown fee may be in the form of either mortgage discount points and/or a lump sum. These funds will be deposited in an escrow account with the lender at closing and will be used to subsidize the buyer's reduced monthly payments.
These charges will show as a charge to the seller/builder side of the closing disclosure
Sellers and home builders can offer a 2-1 BuyDown as an incentive for potential purchasers. This strategy yields a more powerful tool for a borrower than a price reduction.

How Much does a 2/1 BuyDown Cost?
400k purchase
5% down
(Current market rate)
7% – 30 year fixed
$380,000 Loan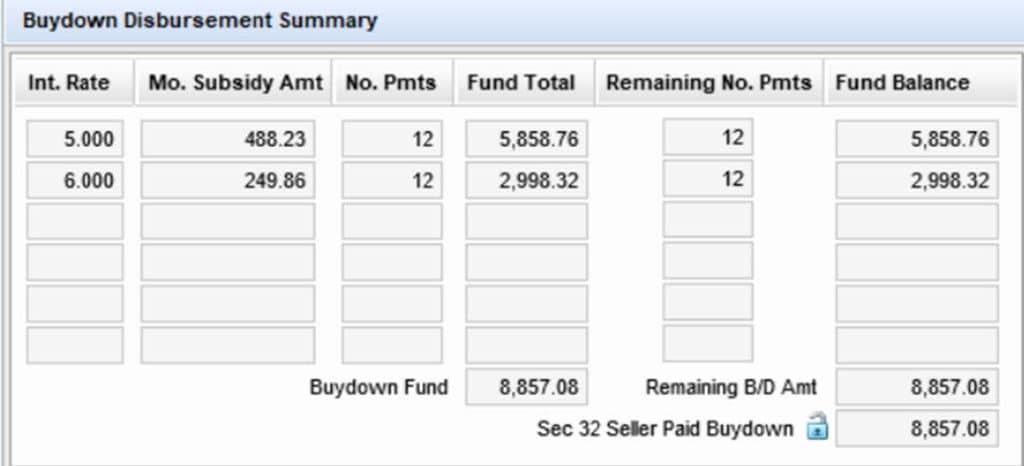 How Much does a 2/1 BuyDown Cost?
Seller Asking – 400k purchase
Traditional Price reduction
Buyer offered
$8857 less than 400k or $391,143
New Price $391,143
5% down 7% 30 years
Principal and interest payment $2472 a month
By reducing the sales price by $8857, the Buyers monthly mortgage payment will reduce by $59.92. Not bad
BuyDown Strategy
Do not lower the sales price!
Keep 400k Sales Price and negotiate an Interest Buy Down instead of a price reduction
The Seller accepts the 2/1 BuyDown offer of 400k & nets the same as a $391,143 reduced offer BUT…
Now we make it much more attractive and affordable to the Buyer.
As well as make the home much more marketable in a volatile, higher interest rate environment for the Seller
Remember the:
$391,143 reduced price offer
5% down 7% interest, 30 year fixed
Principal and interest (P/I) payment $2472 a month?
2/1 BuyDown 400k – 5% down $380k loan, 7% rate. P/I = $2528.15 per month. Up $59 monthly vs price reduction. However:
Year 1 = 5% rate a 2% reduction
P/I = $2039.92 (Save $488.23 or 19.3% reduction)
Year 2 = 6% rate a 1% reduction
P/I = $2278.29 (save $249.86 or 9.8% reduction)
Year 3 P/I = $2528.15 back to note rate of 7%
COMPARE:
Purchase Price Reduction Offer on 400K Home:
$391,143 offer Payment $2472 a month = savings of $59 a month
VS
2/1 BuyDown
Purchase Price 400K
Year 1 = 5% rate a 2% reduction
P/I = $2039.92 Save $488.23
Year 2 = 6% rate a 1% reduction
P/I = $2278.29 save $249.86
Year 3 P/I = $2528.15 back to note rate of 7% Price
P/I = Save $488 or 19%
A buyer with a comfortable $488 reduction in payment in a higher interest rate environment at 7% would have to buy a home $73,350 less in price.
Would the seller reduce price by $73,350? We all know the answer to that question. Absolutely NOT
Shew… That is a lot of information. We hope that you have found this information helpful. For all this information and more, you can watch our video of a recent zoom call on this topic. If you have questions, would like to discuss scenarios, or are interested in other loan products, feel free to give us a call today. Prost Mortgage Group, your Northern Kentucky, Greater Cincinnati home loan experts: 859-795-1316 or start your application online at www.homeloansuccess.com. We are here to help you say SUCCESS in your home buying process.
Serving: Kentucky, Ohio, Indiana, Michigan, Tennesse & Florida
Success Mortgage Partners, Inc. supports Equal Housing Opportunity. NMLS ID# 130562. This is informational only and is not an offer of credit or commitment to lend. Interest rates, products, and loan terms are subject to change without notice and may not be available at the time of loan application or loan lock-in. Contact Success Mortgage Partners, Inc. to learn more about your eligibility for its mortgage products. Loans are subject to buyer and property qualification. Cash reserves may be required. Success Mortgage Partners, Inc. is not acting on behalf of or at the direction of HUD/FHA or the Federal Government.